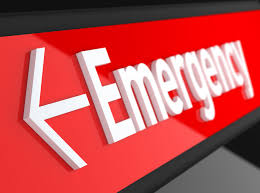 What do you do if you have a tooth abscess & extreme tooth pain in the middle of the night, and are looking for Emergency Dentists Near You or an Urgent Dental Care Office -- and can not find any open in the middle of the night? One of the reasons Just Dental.com was created by a dentist was exactly that reason. Just Dental is the leading dental site helping people find local dentists and get dental answers. There is a wide variety of local dental emergencies that may arise for people, on any given day or time. One thing is for sure, if have a dental emergency such as a largemouth abscess, you should see a doctor or be seen in a dental practice as soon as possible. Dental emergencies need to be taken seriously. At the end of the day, each individual is responsible for their own well being. Try to get regular dental care and when a dental emergency does happen, get it taken care of - there are many great local dentists and dental practices nationwide in the US and most countries provide dental care offices. Use your common sense and get the dental care you need.
What are some common dental emergency problems people face?
- Chipped tooth.
- Tooth abscess / tooth infection.
- Wisdom tooth problem / third molar pain.
- Orthodontics problems with braces.
- Gum disease / periodontal problems.
- Tooth pain, dental pulp nerve exposure.
- Dental sports accident / tooth accident.
- Mouth sores.
- Tooth extraction / post extraction problems.

Understanding the dental care space, searching online for the best dentists and finding online a local dentist is an ever-evolving area of understanding. The reason is simple. Technology, and more accurately the internet age has changed how patients and dentists communicate - and how a person finds a local dentist now. For people in need of the best local dentists in their area, it is most likely somewhere online - though, navigating the online space can be challenging for most people.
Understanding the importance of local dental exam & dental imaging x-rays:
We get asked many local dental emergency questions on what people should do due to tooth pain, etc. One common tooth problem question online we get asked is, my tooth hurts, what is it? In order to fully diagnose, we will need to get dental imaging x-rays. Dental x-rays provide insight as to what is going on under the gums, which is vital to figuring out what is going on.
Health care, therapy, medicine, fitness, nutrition, and dentistry are areas where many people are going online to find information - as well as to find answers to their health care questions. As people are living longer, they are more looking online to find answers and solutions to their various health care issues. In the dental care space, getting the right type of dental information and dental care advice is challenging. This is where Just Dental has been hard at work for over a decade, with a vision and solution for people facing these online dental search challenges. We will be discussing how to find the best dentists in your area, finding solutions to your local dentist questions online, dental care information, what to do if looking for Local Emergency Dentists and why the best dentists / best dental practices should join us @ Just Dental >> so, we can help people with their dental care challenges and local dentalcare problems. That is, why the best dental offices and best local dentists should sign up with us.
There are tens of millions of people in the United States and across with world, who do not have a regular dentist. For many people, Finding Local Emergency Dentists can be hard to do in the middle of the night. We will discuss what happens to people who do have a dental emergency and can not Find a Local Dentist to help them with their dental pain, in their time of need. We get asked many local dental questions online at Just Dental, many times due to a local dental emergency.
Finding a Local Emergency Dentist:
Do you have a local dental emergency, and do not have a regular dentist. If you are looking for a local emergency dentist now, then finding one at times can be challenging. We at Just Dental help people to find local emergency dentists and we also provide answers to their local dental questions. We will discuss the dental care question and answering online, a little later in this local dentist blog. Let us focus on finding the best emergency dental practices and to Find a local dental emergency dentist to provide dental care, in your time of dental need can be challenging at times. Many times, people are looking for a dentist in the middle of the night or on weekends, when most dental practices are closed. Secondly, not all dental offices accept emergency dental cases on the spot. Lastly, some dentists are not comfortable treating just a dental emergency, without having the patient commit to a more thorough dental treatment plan. They do not want to provide a patch up treatment, without the patient committing to long term dental care. They do not want the patient only to show up and calling in the middle of the night. On the other hand, there are dental offices and dental practices more geared towards providing emergency dental care. These dental practices usually have a dentist or dentists on staff, that are well trained in providing various dental care treatments for their patients.​
---
Dental Emergencies Blog, Emergency Dentistry Question Chat:
What are some of the various types of dental emergencies people have or dental problems people face, when looking to go to a local emergency dental office? We will discuss a couple of types of dental emergencies people face or dental emergency situations that may arise for people:
1. Chipping or breaking their teeth. This can happen at any time and at any place. Many times, those who chip or break a tooth - experience this unfortunately in the middle of the night. Why does it happen sometimes in the middle of the night? Some people grind their teeth while they sleep. This is called bruxism. While grinding the teeth or clenching very hard in the middle of the night, can chip or break any susceptible teeth. This may be a tooth with a large cavity or perhaps, a tooth that has a large filling.
2. Toothache problem or Tooth Pain problem in the middle of the night. When lying down, if you have a tooth abscess or tooth infection in the top teeth, then the infection can go towards the sinus and cause pain when lying down. Anytime you have a tooth abscess or tooth infection should see a dentist as soon as possible. some things that can help (this is not a treatment, rather a band-aid of sorts) is taking ibuprofen pain medication since it is anti-inflammatory. Obviously, those people who are allergic to Motrin or ibuprofen should not take it. The other is some sort of antibiotics such as erythromycin or amoxicillin. Again, any time you take any type of medication, you need to see a doctor or dentist who does a thorough medical history exam of you. Some people, for example, are allergic to amoxicillin. Hence, they should be prescribed something else. Again, most important is to get as soon as possible dental treatment at a professional local dental practice in your city. Some people may end up needing to go to the Emergency Hospital if they have no dentists and have a tooth abscess. Find local emergency dentists can be hard at times in the middle of the night. Understanding the level of dental pain and dental tooth severity is important. Not waiting and allowing dental caries to fester over many weeks and months, can cause a local emergency dental care problem.
Using Emergency Teledentistry Consulting and Live Just DentalBot:
Now, people can use teledental services to communicate with dentists. Using Live Virtual Dental Emergency Teledentistry Consulting is being used now more than ever. This is good for an initial consult, before the patient comes to the dental office for dental treatment. Sometimes, people just want to get a ballpark dental price or just want to know some general dental information about their mouth. We get asked many local teledentist questions online.
Looking for Local Dentists Near You or Have an Emergency Dentistry Question? We are at Just Dental helping people Find Emergency Dentists Near You - Local Dentists Directory Online or we can have Dentists Answer Your Dental Questions.
Best Dental Care Questions Discussion Online:
What are the best dental questions we get asked at Just Dental? Many times, people ask a dentist questions about tooth pain, wisdom teeth problems dental care or what to do after having certain dental restorations done in their mouths. We at Just Dental.com welcome emergency dentist questions or dental care questions about dental restorations on here. Our dental platform uses smart technology and dentists to answer your dental question. We have been the leading dental platform doing this now for some time. We get asked anything that has to do with dental care. Many times, people need to do because of some kind of dental problem. For instance, having wisdom tooth pain, their tooth broke in the middle of the night or what to do to make their teeth whiter. We try our best to answer dental questions as best we can. Of course, we can do only as good as the dental information we have. We also emphasize to all to get a thorough dental exam and dental x-rays if needed, to best figure out what is going on. That is, our dental suggestion is only a suggestion.
Searching Online for Best Dentists, Local Dentist Directory Listing and Being on the Best Dentist List:
For those looking for the best dental offices or best dentists, we are the place. Finding a great local dentist is not easy. We are always looking to add the best local dentists to our team of dental practices listed with us. We ask our users to review and provide feedback, so we can continuously be highlighting the best dentists. Most dentists are looking to provide their patients with excellent dental care. It is not all on the dentist to provide the best dental care. That is, the patient needs to make sure to be doing good oral hygiene. Even if provide the best dental care to a patient, and that patient chooses not to floss & brush their teeth regularly - then they will continue having dental problems. Like all health care, people need to take responsibility for how they take care of their bodies. This, of course, includes taking care of your teeth. Preventive dentistry such as regular dental exam and prophy cleanings (dental cleanings), before having severe gum disease is a good idea. That is, getting regular dental care and maintaining good oral hygiene can help in limiting periodontal gum problems.
Preventive Dentistry Information Blog:
Preventive Dentistry Information or preventive dental care knowledge is one of the keys to avoiding dental emergencies. As we briefly discussed, many times treating a small cavity or fixing a small chip in the tooth - is better than a cavity becoming larger and ending up causing a tooth abscess. Those small tooth chips can end up causing the tooth to fracture and need more extensive dental treatment. Hence, get regular dental exam and dental prophy cleanings - so your local dentist can check your teeth regularly. Most dental insurance companies pay for 2 dental prophy visits under most good dental insurance plans. Have to check with your dental insurance company to get more information.
We hope you have enjoyed this local dentist's blog. We discussed Finding a Local Emergency Dentist Online, Best Dental Care Questions Discussion Online, Local Dentists Directory Chat and Best Dentist List Blog with this dental article.